Every once in a while, the universe throws a curveball at us. We think that — even allowing for the stress of a global pandemic, a presidential election that seems to be the last stand between democracy and fascism, right-wing and white supremacist terrorist groups threatening violence on election night and politicians openly embracing gonzo conspiracy theories — that we've seen it all.
And then we get a week of dudes not knowing when to keep their dicks in their pants and their hands out of them.
But while some of these events are more salaciously comedic, some are more disturbing.
We talk a lot about what makes somebody creepy, where the lines are and how to avoid crossing them. After all, understanding what behaviors make women uncomfortable is an important part of creating a culture where women feel empowered to pursue the sex and relationships they want. However, whenever we talk about men behaving badly, we inevitably get the folks who want to defend them. The men — and it's almost always men — who want to give cover to other dudes who crossed lines. Whether it's writing it off as "locker room talk" or down-playing the seriousness of what happened, there always seem to be people who think that boundaries and limits are things that happen to other people.
So let's talk a little about what it means when folks rush to defend other men from the consequences of their own actions.
🎶 Boss Makes a Dollar/ I Make a Dime/ That's Why I Jerk Off/ On Company Time 🎶
Let me set the scene for you.
Last week, Vice vertical Motherboard reported that the staff of The New Yorker were participating in a Model UN-style simulation of the upcoming United States election over Zoom. Some of the biggest names at the New Yorker were taking part, playing the roles of Donald Trump, Joe Biden, the military, establishment Democrats and Republicans, right and left-wing advocates. Jeffrey Toobin was playing the role of the courts; presumably to adjudicate a scenario when the election results are thrown to the Supreme Court.
At one point during the simulation, a break was called, and the folks playing the Republicans and Democrats went to their respective break-out rooms on the call in order to strategize. It was at this point, according to Motherboard, that Jeffrey Toobin appeared to be on a second video call. Then, according to two sources, Toobin lowered his video camera… revealing that he'd taken his dick out and was very clearly masturbating. Shortly afterwards, he left the call and then rejoined… apparently unaware of what all of his coworkers had seen.
In a statement to Motherboard, Toobin said: "I believed I was not visible on Zoom. I thought no one on the Zoom call could see me. I thought I had muted the Zoom video." Since then, Toobin has been suspended from The New Yorker, his Condé Nast email has been disabled and he's been given time off from CNN, where he's a regular contributor.
Under normal circumstances, this is the sort of story that's perfectly crafted to go viral. It has something for everyone. There's cringey behavior from somebody who's old enough to know better. The salaciousness brings out both the moral scolds and the folks wallowing in the schadenfreude.  There's the undercurrent of the trials and tribulations of working from home during the pandemic; Zoom fatigue, wacky background hijinx and Boomers being confounded by modern tech.
There's even that frisson of second-hand embarrassment — that worry of not realizing the webcam was on and accidentally broadcasting something private to the entire Internet.
But these aren't normal circumstances. And what makes this particular scandal different is the way so many people have reacted.
"It was a goof! An oopsie! A whoopsie-doodle, you saw me slap my noodle! You can't fire me for that!"
In any scandal involving the rich, famous, or influential, there's always going to be the temptation to point and laugh. We love to see the haughty brought low and the powerful made to look foolish. This is why satire can be so powerful and comedy can be deadlier than the most explosive expose. But with every scandal, there are also those who will look and say "wait… why are we laughing at this?" Sometimes it's a case of the media attacking the wrong target — such as when Monica Lewinsky became the punchline for every late night talk show host for years. But other times, we get people who want to give a pass for what is unquestionably unacceptable behavior.
The defense and downplaying comes in many forms. CNN's Brian Stetler actually provided a prime example by framing Toobin being suspended as "being sidelined at a critical moment."
Jeffrey Toobin has been sidelined at a pivotal moment in the run-up to the presidential election. The reason: He exposed himself during a Zoom call with New Yorker colleagues in what he says was an accident. Here's our full story https://t.co/pHHNURlxnR

— Brian Stelter (@brianstelter) October 20, 2020
I call out this particular example because of the way it frames the situation: that Toobin being suspended by The New Yorker and CNN is some sort of strategic mistake. That taking him off the field is going to cost us valuable insight that only Toobin could provide. And of course, since it was "an accident", perhaps that means that he shouldn't have been taken off the air or put on leave by his employers.
In fact, the "it was an accident" has been key to a number of people insisting that people are going too far. Quillete's Jonathan Kay also wants to put the emphasis on "it was all an oopsie" that happened because "he didn't understand the tech" and "was multi-tasking during a mind-numbing work exercise".
agreed. We typically punish ppl on *intentions*. Yeah, so toobin doesn't understand tech, & did weird (but not unprecedented) multitasking during a lull in a mind-numbing work exercise. Let he who hath not sinned cast the 1st stone. & who are these Victorian Stasi who ratted him? https://t.co/fCK97vQZqt

— Jonathan Kay (@jonkay) October 20, 2020
Connor Freidersdorf likewise went there, saying that this was just an boner that should be forgiven.
When Occam's Razor suggests someone humiliated himself through a combo of technological error, pandemic circumstances, bad judgment, & bad luck, it seems like we should react w/ empathy, politeness, & forgiveness, as we would want to be treated, rather than punitive mockery

— Conor Friedersdorf (@conor64) October 19, 2020
In fact, the "it was an accident, it clearly wasn't intentional" seems to be one of the single biggest rationales for why Toobin shouldn't be punished.  In response to a viral thread explaining why what Toobin did was wrong, one person replied:
Notice, again, how people are focusing on the intentionality of it. That it was an accidental exposure. That he never wanted to embarrass himself like this. But, as with many of the people defending him or trying to deflect blame, the issue isn't that Toobin wasn't trying to flash his dick at the camera.
Let me be clear here: the issue isn't that Toobin accidentally exposed himself. This isn't a case of "oops, didn't realize the camera was still on." This isn't a case of a nip-slip or wardrobe malfunction. Hell, it's not even about accidentally broadcasting something private to the public. Everyone, I'm sure, can relate to having done something while on a conference call or Zoom meeting that they didn't mean for others to see or overhear. Maybe it was dealing with rambunctious children or a pet. Perhaps you forgot to mute the mic before taking a surreptitious bathroom break or grabbing something from the fridge. Maybe you stood up and folks got to see that your work-from-home uniform involved tattered sweatpants covered in pasta sauce stains.
That's not not the issue. The issue is that Toobin decided the best time to jerk off was while he was on a group call for work.
But let's talk about the "accidental" nature of it all for a second.
In Defense of the "Incompetent"
It's incredibly easy to laugh at Toobin's technological snafu. It plays perfectly into the stereotype of the bumbling Boomer who doesn't understand computers and makes a rookie mistake. Similarly, the anxiety of "oh god I thought the camera was off" is nigh-universal. We could easily see a Seinfeld episode in 2020 about George Costanza not realizing that he'd left the webcam on during an inopportune moment.
But the "bumbling incompetent" has long been a defense against the consequences of men's — and almost it's almost exclusively men — mistakes. That sense of "Oh, did I do that?", the "Who, me?" wide-eyed amazement at the folly of his own actions has long been a shield against repercussions.
In her article "The Myth of the Male Bumbler", author Lili Loofbourow writes:
The bumbler doesn't know things, even things about which he was directly informed. Jon Stewart was "stunned" by the Louis C.K. revelations, even though we watched someone ask him about them last year. Vice President Mike Pence maintains he had no idea former National Security Adviser Michael Flynn was lobbying for a foreign power — despite the fact that Flynn himself informed the transition team back in January, and even though Rep. Elijah Cummings (D-Md.) had written Pence — who was head of the transition team — to that effect as far back as Nov. 18, 2016. Wait, what? said Pence in March. Surely not! Really?

There's a reason for this plague of know-nothings: The bumbler's perpetual amazement exonerates him. Incompetence is less damaging than malice. And men — particularly powerful men — use that loophole like corporations use off-shore accounts. The bumbler takes one of our culture's most muscular myths — that men are clueless — and weaponizes it into an alibi.
The "it was an accident" or "I was too clueless to do this intentionally" defense is one that gets brought out all the time, in almost any occasion. It's the husband or boyfriend who is SO bad at washing the dishes or doing the housework that his partner gives up on ever asking him to carry his weight. It's the man who was so impossibly confused by the new and changing rules of flirting that he couldn't help but accidentally sexually harass someone. And, yes, it's the man who "accidentally" shows his dick to everybody at work.
However, it's important to note that this level of incompetence — one that causes them to, say, get caught jerking it on camera during a work function — never seems to be bad enough to cause them to suffer meaningful consequences. They aren't fired from their job for being incompetent. They just have to suffer the (lesser) indignity of being a subject of mockery for a brief period of time. And yet there are virtually no circumstances where women could exhibit that same level of incompetence and not only not be fired, but not be held up as an example of how all women are incapable of holding that job.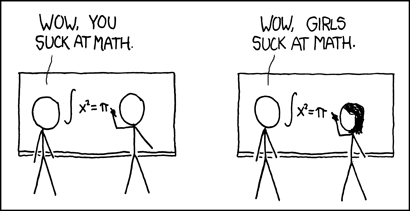 The "it was an accident, he's just that incompetent" defense is one that gets pulled out again and again because, quite frankly, it works. And people see that it works and are eager to perpetuate it themselves.
But even if Toobin wasn't acting maliciously — and I think it's somewhat safe to assume he wasn't1 — the people choosing to defend him by declaring that it's an accident are falling into a disturbing pattern. As Loufborrow says:
Predatory men normalize their predation and support each other. "You're a target. I'm a target," O'Reilly said in a July 2016 appearance on Late Night with Seth Meyers in which he discussed his employer, Ailes. "Anytime somebody could come out and sue us, attack us, go to the press, or anything like that. … I stand behind Roger 100 percent." Then-presidential candidate Donald Trump, before he himself was accused of sexual assault, also defended Ailes. "I can tell you that some of the women that are complaining, I know how much he's helped them," the future president said, adding that Ailes is "just a very, very good person. And, by the way, a very, very talented person." Weinstein supported Roman Polanski, calling the charges that he drugged and anally raped a 13-year-old girl a "so-called crime" and calling the charges themselves "a shocking way to treat such a man." And Oliver Stone, himself accused of groping a model, lamented Weinstein's fate: "It's not easy what he's going through," Stone said. "I'm a believer that you wait until this thing gets to trial. I believe a man shouldn't be condemned by a vigilante system."
But that's not the ONLY disturbing defense of Toobin…
"Really Who HASN'T Cranked One Out At Work?"
Another defense of Toobin's behavior is the "come on, EVERYONE does this!" Before deleting the tweet, Vox reporter German Lopez tweeted: "Not sure someone getting caught doing something almost everyone does should be a national story". Jonathan Kay, likewise employed the "let he who hasn't sinned cast the first stone" defense of Toobin.
Which… look, "Yes, he thought he was jerking off near his coworkers but didn't think they could see him" isn't exactly the defense that you'd think it is. And honestly, "who amongst us hasn't rubbed one out while at work" isn't much better.
But the prize for "that's not helping, dude" probably goes to Jonathan Zimmerman at the New York Daily News for "really, the problem is that he got caught masturbating."
I'm really not kidding. Zimmerman's entire defense comes down to the idea that Toobin's sin was the taboo of… jerking it. At all.
From the article:
So let's suppose Jeffrey Toobin had been caught on camera having sex with a partner instead of touching himself. Would he be the most mocked man in the United States right now?
Um… yes. Yes he would be. If Toobin had angled his camera down and accidentally revealed that he was getting a hummer from somebody — literally anyone — while on, and I can't stress this enough,  a work call, then HELL YES he would be getting mocked all over Twitter. I'm not entirely sure why this is in question.
Zimmerman continues:
But why the resolute focus on this celebrity? The answer has to do with his particular transgression, of course. Toobin previously fathered a child with a mistress, which generated a few gossip columns but was quickly forgotten after that. Yet nobody is likely to forget that he had sex with himself, which has been a big no-no since the advent of the Enlightenment.
I bring this up only in part because the "WE'RE ONLY MOCKING HIM FOR MASTURBATING" is… absurd on its face. As even Zimmerman points out: over 90% of the population freely admits to choking the chicken. No, I bring it up because Zimmerman, as many others do, wants to blame wokescolds for Toobin's downfall. The problem isn't that he chose to jerk off while at work, it's that he was jerking off and the moral police can't abide that. If it were literally any other sexual act besides The Sin of Onan, nobody would care.
Jonathan Kay, likewise agrees that the problem are progressive Puritans:
LOL. The *vice* guy whose tweet I quote-tweeted deleted his tweet. But I'm still here proudly taking the abuse. Progressives are the new victorians. Bdsm, polyam 24/7… but get caught whacking it, and it's off to the stockade

— Jonathan Kay (@jonkay) October 20, 2020
This in and of itself is kind of hilarious in its way… but it also misses several points. BDSM, polyamory and, yes bashing the bishop, are all things that progressives are fine with… because everyone involved is consenting. Toobin's coworkers didn't consent to see his dick. Plus, those deeds are, presumably, occuring in places where they're permitted . Once again, the issue isn't that Toobin was jerkin his gerkin and got found out; it was that he was doing so on the job, at a time when he was expected to be acting like a professional.
Frankly, there comes a point where you wonder why so many people are so eager to defend the guy. You could be forgiven for thinking of Loofbourow's point: that they're wanting to defend their own. Or that it's a case of "there but for the grace of God (and knowing how to turn off the camera) go I". Toobin is dying for their sins, as it were.
But honestly, I think it comes down to something slightly more banal.
Oh Look, It's The Consequences of My Own Actions
Now it must be said: nothing happens in a vacuum. Everything occurs in context with the world around us — including living through unprecedented times. It's not inaccurate to say that, with so many of us working from home, that the lines between the personal and professional are blurring in ways like never before. If you're not someone who's used to working from home, it's understandable that you may have issues shifting from home brain to work brain.
And again, in fairness, the pandemic has forced us to reconsider so many things that we've taken for granted as being "necessary" at work. Yes, that meeting probably could have been an email. No, most of those jobs don't need to be done on site. And no, that dress code probably doesn't actually improve productivity.
But there's a vast difference between "you don't need to dress for the office if you're working remotely" and "you're expected to maintain certain standards of professional behavior while you're on the clock". It's not that unreasonable if you show up for the all-hands zoom call in sweatpants and a t-shirt. Hell, there're parents who're having to educate and wrangle their children while also putting in their eight hours; expecting them to be exactly the same as they were during the long-long-ago is asking a lot.
However, it's not unreasonable to expect a certain level of professional behavior from folks while they're on the clock. 
Yes, it's easy to forget that you're nominally at work when you're still at home. But that doesn't mean that some activities are going to be acceptable regardless. Toobin was on a work call when he decided to whip it out and go to town. This was a choice that he made. It wouldn't be any less egregious if Toobin's colleagues had walked in on him cranking one out in his office; no amount of "silly Boomer couldn't figure out how to lock the door" would keep him from getting fired. The whole "I thought the camera was off" is ultimately a distraction from the fact that he decided that he absolutely had to crank it out right then.
And the thing is: this is a mistake that didn't have to happen.   There was nothing preventing him from getting up and going somewhere else if he wanted to clear the old pipes. He could have moved to a different part of the room where he wouldn't be on camera. He could've gotten up, gone to the bathroom and shut the door. There was no reason that he had to sit there, camera angled at his crotch and beat it like it owed him money.
I'm not terribly interested in adjudicating why he didn't. Maybe he liked the idea of getting away with it while his coworkers were unaware. Maybe he was sexting with someone. Hell, maybe — as one of my friends suggested — he was having a dom/sub session and his dom told him to jerk off right then and there. The point is that this was his decision — to masturbate while his coworkers were there with him in virtual space — and now he's facing the consequences.
The truth is that I'm less concerned with Toobin than I am with the people who are eager to give him a pass. Because the issue isn't #MeToobin. The problem are the people who think that he didn't do anything wrong. That he shouldn't have to pay the price for his own choices. By rushing to excuse Toobin — it was an accident, who hasn't jerked it during a Zoom call, the problem is masturbation — they eagerly normalize and excuse behavior that would be inexcusable in person and result in almost anyone else getting fired on the spot. At best, his defenders seem to be highlighting their own lack of boundaries.
At worst, the problem they see is that he's being punished. And they feel that shouldn't be permitted.
It's the message that Toobin is too valuable to fire, even after this. The idea that punishing someone for not having the self-control to not jerk off at work is abhorrent to them. That he should be allowed to get away with doing so with impunity. It's codifying "boys will be boys" into official policy.
This is the mentality that excuses "grab them by the pussy". It's the same mentality that justifies Brock Turner getting less than a year for rape. That boys shouldn't go to jail for sexual assault because they have such promising futures. That sexual harassment is just "part of the culture". 
That's more disturbing than anything Toobin did on camera.
Though it must be noted that Toobin HAS had other accusations leveled at him, especially regarding an extramarital affair he had [↩]