It seems like everyone's trying to be happy. Happiness is constantly marketed to us as a goal that we need to reach. Are you happy? Are you happy right now? No? Well that's a problem! Buy this product and you'll be happy. Drink this. Eat that. Join this club. Live this lifestyle. Buy this book with a special, one-of-a-kind lesson taught from uber-spiritual Lamas.
The problem is that happiness is kind of like The Force. You do… or you do not. There is no try. In fact, trying to be happy tends to mean that you're not going to be happy. Like trying to grab Jell-o, the harder you squeeze, the more it's going to slip through your fingers. Paradoxically, the best way to be happier… is to stop trying to be happy.
Understand What "Happy" Really Is
Part of the problem we have when it comes to happiness is that most of us don't really get what it means to be happy. The idea of being "happy" implies permanence – that achieving happiness means that once you have it, you'll always have it. Except… well, that's more or less impossible. Happiness, by its very nature, is ephemeral, transitory and impermanent. We feel it for a while, but it's always going to fade. It's impossible for us to always be happy because, frankly, we're not built for it. Literally.
There's a quirk of the human psyche called "hedonic adaptation" – that is, we get used to things. It's part of what makes humanity so adaptable; we can adjust to just about any circumstance no matter how dire… or how good. This is one reason why, for example, getting that cool job or driving that cool car or getting a perfect six-pack doesn't actually make life better for very long. The satsifaction that we get from achievements, accomplishments or even simple material gain fades very quickly – often within a year at the most. Even physical sensations quit being so mindblowingly amazing. To a virgin, having sex seems like the most amazing thing in the world; to someone who's had a lot of sex… well, you know how "meh" some sex can be.
That's why it's good that happiness is ephemeral and temporary. The transitory nature of happiness means that you can appreciate it, savor it and enjoy it when it comes.
Now, not being happy doesn't mean that you're unhappy. The opposite of happiness may be misery, but just because you're not happy in the moment doesn't mean that you're sad. You can be content. You can be satisfied or comfortable or fulfilled. These aren't the same as being happy… but they can be components to happiness that are worthwhile on their own.
And while you shouldn't try to be happy, you can do things that will bring happiness to you more often. For example…
Limit Your Exposure To Negative Stimuli
Something that people rarely realize is how much we prevent ourselves from feeling happy in the first place. In fact, a lot of our modern life actively robs us of opportunities to experience happiness before we even are able to achieve them.
What people often don't realize is that humans have a limited emotional bandwidth. Just as your computer can only process so much information at any one time, humans have a limited capacity for emotional experience… and the more things that we let clog up those metaphorical pipes, the less room we have for feeling the things we'd like to feel.
In fact, computers are frequently part of the problem.
One of the great ironies of modern mass communication is that while it enables us to stay in contact with friends and loved ones around the world, it also gives other people the opportunity to rob us of our happiness… simply by flooding us with negativity. It's great that we can connect with more people than ever before, but it also means that we deal with more and more people whose idea of fun is to shit on our front step.
The current election is a great example of just how much social media can clog our emotional bandwidth – the divisiveness and vitriol that has come to define the election is emotionally exhausting. Browsing Facebook and dealing with the people screaming at one another about Trump or Hillary or Bernie or Jill Stein or whomever can leave you feeling drained and miserable, even if it's not directed at you.
Of course, the Internet's potential for negativity isn't restricted to an election year. As many women have found, simply having an opinion is enough to motivate assholes to start flinging shit at them. Wanting to expand gaming's core experience beyond tits and violence similarly brought about the angry mobs looking for someone to hate on. The fact that someone online has the temerity to exist in a way that someone else doesn't approve of has spurred even more insults from random strangers. Someone who's fat but is otherwise healthy, who has a happy sex life, a good job and friends may be enjoying themselves… but there're going to be people who'll line up to yell at them and insist that they should be miserable because they're overweight.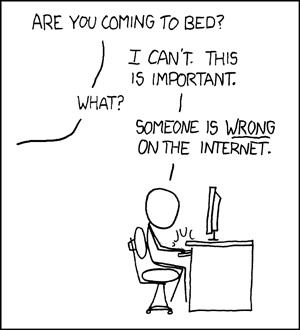 Even television can be another source of inadvertent misery or dissatisfaction. Most of the medium, after all, is designed to sell you something. And the best way to sell you something? Tell you – even in subliminal ways – that you shouldn't be happy because you don't have X. Your life is empty and miserable because you don't do Y or you don't look like Z.
This is why one of the most important things you can do to increase your own happiness is to limit the negativity that you expose yourself to. While it's trendy to yell about "safe spaces" and it's unrealistic to expect all of life to be unicorns, rainbows and unicorns farting rainbows, that doesn't mean that you need to invite unnecessary misery into your life. Sometimes taking a break from the people hurling abuse your way in the name of "discourse" is what lets you keep you keep your sanity intact and not clog up what's left of your emotional circuits with anxiety.
Whether it means taking a social media break, cutting toxic friends out of your life or taking a long hard look at the subreddits and forums you spend time on, cutting down on the amount of vitriol, anger and bile you get exposed to daily increases your capacity to find happiness and joy, simply by freeing up your emotional bandwidth.
Practice Gratitude
Another thing that is important for increasing the happiness you experience is simply to be more mindful of what you already have. In fact, scientists have found that gratitude and happiness are intrinsically tied together. People who are more mindful and who express gratitude to others are happier than the ones who aren't. And to be fair, this isn't terribly surprising.
Taking time to take stock of what you have in your life makes you more aware that while there may be parts that suck, we also have a lot going for us that's pretty damn good. The problem is that because we narrow our focus so tightly, we don't really engage with the world around us. It's hard to appreciate a gorgeous day, for example, when the only thing you're thinking about is your job or your commute or whatever. It turns into one more piece of data in a flood. It's just another detail that gets overlooked while our attention is directed elsewhere.
Taking time to consciously appreciate the good things in life requires that you engage with your life, instead of letting things just happen around you. By paying conscious attention to the good things – even if it's something as small as your morning coffee being extra-tasty – you improve your mood and overall satisfaction. Simply keeping a journal of good things that you noticed during the day can make you feel better. Expressing gratitude to your friends, family and coworkers is also a good way of increasing your overall happiness. Letting people know you appreciate them and what they do for you helps solidify social connections and makes people like you more. After all: people on the whole prefer a friendlier, more positive person to yet another gloomy Eeyore looking to complain about things.
Pursue Experiences, Not Things
One of the mistakes people make when it comes to pursuing happiness is that they conflate happiness with material goods. It's not terribly surprising; after all, there's a multi-million dollar industry devoted to convincing you that a particular product is going to be what finally makes you happy. And to be sure: I'm as big a sucker for this as anyone else. Every time there's a classic car show nearby, I feel my desire for a restored (and tricked out) 1951 Chevy pick-up reawaken.
Because seriously, how cool would it be to drive that sucker? Answer: pretty damn cool. For a while, at least. But like I said earlier: humans get used to anything and the awesomeness and happiness that would come from owning that car would fade over time. It would eventually just be "my car". Even monumental events like winning the lottery don't make you happy for very long. ((Now, there's an argument to be made about achieving financial security, especially for folks who haven't had it, but that gets really deep into the weeds…))
Experiences, on the other hand, are less prone to hitting the hedonic adaptation switch. In fact, studies have found that experiences actually make us happier over time because – like Time Lords – experiences laugh at the linearity of time. Experiences make us happier even before we undergo them. The anticipation of a vacation, for example, can be almost as exciting as actually going on it. The memories of having had that experience continue to make us happy afterwards. In fact, those memories frequently get better over time.
That smartphone may be cool and make you happy early on. Over time, however, its emotional value diminishes. The flaws add up. The frustrations grow. It gets damaged. The new OS causes more problems than it solves. Eventually, you have to replace it. Meanwhile, the memories of experiences continue to improve as you find sides that you never expected, or look at them in new ways.
Even imperfect experiences – a vacation interrupted by food poisoning, say – can become a happier memory with time and experience. Things we may not appreciate or enjoy in the moment can be fodder for stories that amuse us after the fact. Speaking personally, the food poisoning I got in Turkey sucked at the time… but the stories of trying to explain why I had to bring my barf-bag through airport security1 is kind of priceless afterwards.
Do Things That Are Meaningful
One of the surest ways to improve your overall happiness is to do things that have meaning. One of the perennial sources of our dissatisfaction is the feeling that we're on a treadmill of insignificance. We get up, we trudge through our days and go back to sleep having done nothing of any consequence. We live lives of quiet desperation as invisible cogs in an uncaring machine.
Finding something meaningful to invest your time and emotional energy in, on the other hand, can give you purpose. It fulfills a need in us that we may not have noticed that we even had; suddenly this mysterious void in our soul that we've grown numb to has disappeared. Finding something that brings satisfaction to your soul and lets you feel like you've made a difference? That's something that can be worth more than its weight in gold.
What is "meaningful" is going to be intensely personal and incredibly variable. For one person, it may be volunteering at a soup kitchen or raising money for a charity. Altruism, after all, seems to have an almost exponential increase in personal happiness. For another, it may be rescuing a shelter dog or being a mentor for someone. Some may find meaning in writing and performing music, even if they never achieve any significant level of success or notoriety. Still others may find meaning in working to provide a better life for their children than they had growing up.
Regardless of what you do or how you do it, pursuing happiness as a goal into and of itself is a mistake. But by pursuing the things that enable happiness – and that make others happy as well – you can increase the times when you are happy… and appreciate it more in the moment.
Long story short: Turkish airports don't have trash cans out front for security purposes [↩]