Right now everything feels like chaos. We're living through the worst pandemic the world has seen in more than 100 years. We are less than three weeks out from an election that feels like our choice is whether to pull America back from the brink of fascism or not. Our lives have been thrown into pandemonium like we've never known, even as people seem to insist that we're fools for being concerned about a virulent disease. Violent extremists are attacking innocent protestors and activists and the people in charge are hosting giant gatherings all but guaranteed to spread the virus.
And yet life stubbornly insists on continuing like normal.
It's enough to make you feel like you're going mad.  Like you want to give up and just scream.
But even under the best of circumstances — when the world doesn't feel like it's teetering on the verge of collapse — there are times when life feels like it's too much. There are days when you feel like you're hanging on by your fingernails and you just want to let go. There are days when you simply don't feel like you have the strength to keep going. Whether it's chasing your long-term goals and dreams, finding the desire to keep moving forward, or even summoning up the courage to make the hard decisions, you will face moments that will push you to your very limits.
Those are the times when you need to have the resources to keep going. You need to build your emotional strength. You need to have the will and the strength to not just persevere but to thrive.
Here's how.
You Can't Shame Yourself Into Strength
The first thing that you need to understand about becoming emotionally strong: you don't build strength through anger or shame. In fact, one of the worst mistakes people make is to try to use shame and anger as a way to motivate people to improve. We see it in the folks who argue that treating overweight people nicely or selling them attractive clothing would de-incentivize them from being healthy. We see it when people argue that financially supporting the economically disadvantaged would just encourage them to be lazy parasites. People could overcome their mental illnesses if they just wanted it badly enough; treating them would just make them stop trying.
Hell, we can even see folks who insist that four more years of Trump will be what finally makes the American populace break the back of centrist politics and so his winning would be Good Actually.
The truth is that while anger can be fuel to spur you into action, it's actually awful for actually motivating you to do better. Shame is no better; shaming somebody doesn't inspire them to make things better. Sure, we've all got the image of the yelling drill sergeant driving the recruits under his command to push past their limits and become REAL GODDAMN SOLDIERS, but we forget that the purpose isn't to make them better, it's to condition them to obey.
Anger and shame — whether coming from someone else or from yourself — don't encourage people to improve. Rather than inspiring folks to try harder or push farther, it just encourages people to try to avoid being yelled at or insulted. Worse, when it comes from within, it can actually make things worse and end up reinforcing the negative behaviors that you're trying to change. After all, if you keep telling yourself you're a lazy piece of shit, there's going to come a point where you decide that you may as well act like it. Beating yourself up for failing at something makes it harder to keep going. You're more likely to take a temporary setback as being catastrophic and lose whatever progress you've made.
To give an example: somebody who's trying to get better grades in a class they struggle with will, inevitably, have times where they do poorly on an exam or a paper. Negative self-talk —  "you're a fucking idiot, you should've gotten an A on this, you didn't study hard enough, you lazy shit"  — makes them much more likely to treat this single failure as proof that the whole endeavor is impossible. Somebody who's trying to kick an addiction may relapse; yelling at themselves about how weak they are is far more likely to make them fall off the wagon entirely instead of treating it as a momentary lapse and starting again. Getting angry at yourself, shaming yourself and blaming yourself just reinforces the idea that you are a failure. This cements "failure" as part of your identity, something permanent and unchangeable.
If you want to become emotionally strong, then you don't need anger, you need compassion. Study after study has found that positive encouragement and compassion are far more effective means of motivating someone to improve and achieve success. After all, having someone who believes in you and knows you can do better is going to push you to work harder than someone who gets in your face and screams in anger. The person who celebrates your successes and encourages you to get up and try again when you stumble is going to help you want to try again. And sometimes the person who believes in you, who shows compassion for you when you struggle and knows you can do better… should be you.
When I work with private clients who are struggling with dating — clients who tell me how awful they are with women or relationships — one of the first questions I always ask is "if your best friend came to you and said those things about themselves, what would you say?" Every time, they say the same thing: "That's not true, you're awesome, you can do this." The difference is often striking. But when I ask why they treat themselves worse than their best friend, they are quick to find excuses. It's different when they fail than when their friend does because… reasons.
This why it's important for you to be your own best friend. You should be the person who you can turn to when you need support and encouragement. You should be your first and best fan, friend and mentor. Positive self-talk — reminding yourself that you've got this, that these setbacks are temporary, that you're stronger than you know — is vital for building emotional strength.
Now, self-compassion and being your own best friend doesn't get you off the hook for pushing yourself. It's not a pass to half-ass things. To practice self-compassion and being your own champion is a call to be encouraging, understanding and supportive, even in failure. Failure is what makes it possible to succeed. Failure teaches you how to get back up. Hell, failure teaches you that you can get back up. Take a beat, catch your breath, then grit your teeth and try again.
But while we're talking about self-compassion…
Pay Attention To When You Feel OK
One of the reasons why it's so easy to feel overwhelmed is because we pay more attention to the negative. We all have an inherent negativity bias, which causes us to pay five times more attention to negative memories, experiences and feelings. And while this is a valuable trait — the negativity bias helps you recognize danger and threats — that bias makes it easy to think that we feel awful all the time.
But… we don't. There are plenty of times when we actually feel fine. Even in our darkest hours, there are moments where we can feel… ok. In fact, those moments can feel so disconcerting that we often think that this means something's wrong. But that negativity bias and the way it makes pain, despair, anxiety and frustration so front-of-mind is precisely why it's important no notice and center yourself on those moments when you feel ok. In fact, the more mindful you are of when you feel ok, the faster you'll realize how often you feel this way.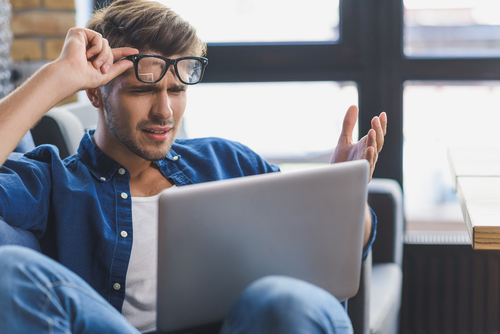 Now, notice very carefully that I said "feel ok", not "feel great" or even "feel pretty good". The point isn't to feel amazing all the time. In fact, expecting to be happy or feel incredible all the time is a mistake. But at times when the earth quakes, poison arrows fall from the sky and the pillars of heaven shake, finding those moments of calm are vital. Being aware of when you feel ok is a reminder that life isn't always awful. Even those minor breaks, those moments of calm can be huge. They're a reminder that everything isn't awful and that this feeling isn't permanent.
Just as importantly, being mindful and paying attention to when you feel ok changes your perspective. It means being present and in this moment. Anxiety and despair are never about the now. We have fears about the future and try to find ways to avoid them. We focus on the regrets of our past. But in this moment, this moment right now… you're ok. It may not be the best you've felt all year. Hell, it may not be the best you've felt all week. But right now, you're ok. This mindfulness helps you recognize those times when you're borrowing trouble from the future and break the emotional cycle that tells you that this bad feeling is permanent and there's nothing you can do.
That's why it's important to check in with yourself regularly. You should stop and ask yourself "how am I right now, this very second?" If you take that moment to pause and assess things… you'll often realize that yeah, you're actually ok right now.
One thing that can help is to use an app like MoodMeter. Not only can you set it to remind you to check in at various intervals, having that record of your moods can be a useful reminder that things aren't awful all the time. And, as a bonus, tracking your moods can help you isolate potential triggers that sap your emotional strength.
(More on that in a second).
Challenge Your Beliefs
Of course, none of this is going to help you build emotional strength if you don't address the deeper issues. Part of why people lack emotional strength and will is that they simply… accept that lack. They believe that they're weak, that they're failures. They take those negative beliefs as gospel, with no evidence besides "it feels true".
But, as so many would-be "cool kids philosophers" like to tell us: feels ain't reals. The fact that you feel a certain way doesn't make it true. In fact, as the negativity bias shows, our feelings often lie to us. The worse it feels, the more likely we are to believe it, simply because negative feelings feel more authentic. It's easier to buy into the worst beliefs about ourselves than the positive ones because those negative feelings outweigh the positive ones to a factor of 5 to 1.
But the fact that we believe it doesn't mean we can't change those beliefs. To do that, we have to be willing to challenge what we assume are our limits. You have to confront those self-limiting beliefs and ask the most powerful question possible: "What if I'm wrong?"
It's important to ask yourself: what will it take to prove to yourself that you're wrong.
Of course, I can already hear some of you saying "Absolutely nothing". I can hear even more of you getting ready to set an incredibly absurd standard that no reasonable human could live up to. And if that's you, then I have a follow-up question: why apply an impossible standard of proof to your own life when you're already unhappy with things? Is this a level of proof you'd demand from your best friend if they were trying to improve their life?
(If so… well, your buddy needs better friends.)
The truth is that demanding absurd or impossible levels of "proof" that you may be wrong is, ultimately, cowardice. You're not demonstrating that you hold higher standards for yourself than for others. Neither, for that matter, are you proving yourself to be a "realist". All you're doing is trying to give yourself an excuse to not bother even making the attempt.
If you want to become stronger, then you have to work with the assumption that you could be wrong about yourself. You have to be willing to accept that maybe, just maybe, you're capable of more than you give yourself credit for. More often than not, our limits are assumptions, not fact. We attempted something once or twice, failed, and called it a day. Hell, you may have even tried it more often than that and still failed. But failing at something isn't proof that you can't do it. It's just proof that you couldn't do it that time. Times change, you change and circumstances change; you can do things at 20 that you couldn't do at 15. You can do things at 30 that you could never dream of at 20.
But you very well may a grown-ass adult, living with the limits you decided upon when you were a teenager.
That's why you need to be willing to challenge those beliefs and actively look for evidence that you're wrong. And here's the thing: that evidence doesn't need to be massive. It doesn't need to be a life-transforming change. Even a little improvement is proof that you're capable of more than you believed.
It's like the fairy tale of the bird and the mountain. There's a mountain made of diamond that takes an hour to walk around and an hour to climb. A bird comes and sharpens its beak on the mountain. In the time, the mountain will be chiseled away. That doesn't mean that the bird isn't making progress or capable of doing it, just that it takes continuous work.
You may think that's an indication of how impossible the task is, that it would take an inhuman amount of time.
Personally…
Find Your Team
As much work as you may be putting in to growing stronger, none of it is going to last if you sabotage your own progress. One of the single biggest reasons why people have low emotional strength is because they've surrounded themselves by people who sap that strength away. Worse, they're surrounded by people who encourage them to believe that they're weak and helpless.
The incel community is a perfect example of this. They create an echo chamber populated with folks who don't want to believe that improvement is possible. Their community is organized in a way to not just quash hope, but to emphasize despair and helplessness. Anything — literally anything — that makes people feel slightly better gets mocked as "cope". It's dismissed as fantasy at best, the delusion of someone who hasn't "swallowed the black pill"; they haven't embraced that there's nothing to do but lay down and rot.
"Cope or rope" as the saying goes.
But while incels are the obvious example, you can find any number of folks who delight in dragging other people down. It's crabs-in-a-bucket syndrome, pulling folks who seem like they may get out back to their level. If anyone can improve, then that forces them to confront their own situation. Somebody else succeeding means that they have to face that they're stuck there by choice. It's not surprising that the people who leave the incel community and actually go interact with folks in person discover that it's nothing like what their so-called friends have told them.
But the people who drag you down aren't just caught up in their own misery. Plenty of folks have toxic friends or family members who never miss a chance to grind away any hint of self-esteem they may start to develop.
This is why it's important — as a wise man once said — to make sure you're not just surrounded by assholes.
Just as importantly though, is to surround yourself with people who believe in you, support you and want you to do better. The old saw that you're sum of the 5 people you spend the most time with is actually true. We adapt to the norms of our community and the outlook of our social circle. The more time we spend with people, the more that we begin to adopt those beliefs and attitudes ourselves. And, humans being as adaptable as we are, we become what we believe ourselves to be. Which is why it's important to be mindful of what we allow ourselves to believe. You want to make sure that you've immersed yourself with people who want the best for you and push you in positive ways.
Of course, there are times when we may not realize just how much our social circles negatively affect us. We may not realize our friends are toxic or that our communities make us miserable. This is why using apps like MoodMeter can be useful; tracking your emotional state can help you recognize when certain people in our lives are consistently bringing us down. It can be hard to realize that some relationships are unhealthy. It can be difficult to accept that some folks are bad for us.
What's especially insidious is that not everyone who drags us down is necessarily malicious. Sure, you'll have the folks who'll try to tempt a recovering addict to break their sobriety, but there're others who will think they're actually doing you a favor. They will tell you that they're beating you down in order to build you up. Yeah, they hurt you, but it it's in the name of making you stronger. They cut you down because they don't want you to be disappointed when you (inevitably) fail.
But some favors aren't worth it. Some "help" isn't actually helpful, and just because someone means well doesn't mean that it doesn't hurt you instead. This is why it's important to have strong boundaries and — if need be — to cut them out of your life.
The same goes for what you feed your mind. Social media is especially bad in this regard; Facebook, Twitter and YouTube are algorithmically designed to maximize engagement and nothing produces engagement like anger, hate and despair. It's far too easy to zero in on the things that reinforce the worst of what you already believe. This is why it's important to be mindful of where you spend your time online and what you let into your life. Curating the hell out of your online experience is important when it comes to improving yours emotional strength. You want to find the things that inspire and motivate you in a good way. You want to feed yourself the things that make you believe "I can do this", not "I should be able to do this". "I will succeed", not "I should have succeeded by now."
Garbage going in only creates more garbage. Focus your time and attention on the things that give you hope and push you to try again, not the things that make you feel like it's too late.
But most importantly:
It All Takes Time
The most important lesson you can possibly learn about emotional strength is that developing it is a marathon, not a sprint. Much like physical strength, emotional strength takes time to develop.
Learning how to be stronger and more resilient is a process, just like lifting weights. Just as with building muscle, you build emotional strength over time by using that strength.
Of course, you can make it easier on yourself to use your emotional strength by limiting your exposure to the things that tax your strength excessively. That means being willing to set boundaries, recognize your limits and triggers and put obstacles between you and the things that make you despair.
It's also important to celebrate the little successes, the moments where you were tested and passed. That can be when you kept your cool during an incredibly stressful time. Or maybe you used breathing exercises to control your anxiety. Maybe you were able to stay at a party where you didn't know many people for a little longer than you did before. Or you were able to start a conversation with someone you didn't know — even if it only lasted for a minute.
Each little victory is another step towards building even greater emotional strength. It may not seem like much, but those small improvements are vital. Individually they may not seem like much. But then, individually, sand and gravel don't seem like much. But when you combine them in enough numbers, you start to form concrete. And then those tiny particles form a whole that becomes a foundation for something even greater.
But the single most vital thing you can do to build your emotional strength and grit is to simply believe in yourself. You may not be there yet, but you'll get there. That's why you need that team of inner voices cheering you on as you push yourself. Ignore the people who know the old you, the folks who keep trying to treat you like the old you. The you who wasn't as strong as you are now and who'll be even stronger tomorrow. Focus on your progress instead; your persistence will change their minds and they'll see you for who you are now.
Instead, find your inner All-Might, your inner Doctor, your inner Jedi… doesn't matter who. You just need to cultivate the voices that tell you that you've got this, that you can push a little further, that you're amazing and you've come so far. Remind yourself that you're becoming the person that Mr. Rogers always knew you could be and keep telling yourself that you can do this all day.
Keep saying it, even if it's not true yet.
Because soon… it will be.