Hello Doctor,
I've been reading this blog for a long time and have had nothing but good results from it: I managed to get myself out of a rather nasty downward spiral of negative thoughts and poor self esteem by taking what you've written and applying it to my everyday life.
Still no girlfriend but that doesn't worry me any, I'm happy being single at the moment!
The reason why I made this post was because I've been having some issues with time, making plans and it's effects on me.
For context, I'm in higher education (university) and as such that requires a HUGE amount of planning, scheming and plotting for getting to every class, performing all of the reading beforehand, making study plans for exams (even the ones that are months away), working on assignments and finding time to eat, sleep and keep hydrated in the process. I'm also a computing student, for additional context.
Now I have done a good job of that so far, if anything I like scheming! The problem is that I always carry the feeling of there never being enough time for work/revision/sleeping/ with me, and it never shifts no matter how much I do in that one field.
Heck, even when I take breaks there's the jackassbrain part saying "you shouldn't be doing this, you got X1, X2, X3 and Zero to do" despite the fact that I know that I'm still human and as such do need to take breaks occasionally.
Compounding the error is that in my plans I set informal deadlines for myself and get panicky/worried/mad when they aren't met, reducing my capability to do effective work even further until I calm down and remember that I'm still human.
Essentially I'm trying to make plans that are metaphorically and literally five steps ahead then growing frustrated or downright furious when they don't work out as I planned, this being a continuous cycle.
Ever since I went back to uni a few weeks ago, I've been going through a cycle of frantically planning anything I can, panicking at the plans changing, growing angry at myself for not completing informal deadlines on time or growing paranoid if I completed them before time and overall spending too much time in my own head space.
I've suffered not-quite-regular panic attacks followed by panicked bursts of work before, all while jackassbrain is intoning "if you planned better, you wouldn't be in this position" over and over and over, only ceasing once either it's completed or I'm in no physical state to do any more, at which point it starts to intone "That isn't good enough, how dare you need a break", or some variation on that.
I am looking into practicing mindfulness at the moment and that appears to be going well, but changing a longstanding mental process mixed with intense emotional reactions is never easy.
I know uni isn't gonna be candyland (cause if so it'd all go to hell once things started to go off) but I don't want it to be a complete mind-bending worryfest and ragefest for the whole couple years I got remaining here.
What I'm asking here, Doctor, is for anything I can do to calm myself down, relax with my planning and stop thinking as if one minor change or a couple big changes spells the end of my higher education career.
Thank you,
Clock King
---
Here's my question for you, Clock King: how much imposter syndrome are you dealing with right now?
I ask because it sounds to me like you're doing something that a lot of people I know do: you're trying to control for everything. It's a way of trying to justify things and overcome that nagging voice in your head that says that if you fuck up even slightly, people'll twig to the fact that you don't know what you're doing. And once that first domino falls, it's only a matter of time before everyone realizes you're a fake, a fraud, a mistake and then everything will go away.
If you can just get everything to work exactly like you want it to, where everything goes perfectly… then you'll be fine. You'll convince people that you're where you're supposed to be, that you know what you're doing and that you deserve to be at this university and in this program.
At least for today. By tomorrow they may start to suspect so now you have to repeat the whole cycle over again.
To make matters worse, this "MUST! BE! PERFECT!!" drive starts to filter into everything. If you let yourself be alone with your thoughts for just a moment, that jerkbrain kicks in and starts telling you "shouldn't you be working? Shouldn't you be studying? Don't you realize that if you're not studying right now then you're probably going to lose everything?!? GET BACK TO WORK, SLACKER!" You're doing the Red Queen's race: running as fast as you can in order to stay in the same place. Small wonder you're fucking exhausted.
The problem is: people aren't machines, Sherlock isn't real and nobody can plan everything down to the smallest detail. Even in the finest clocks, chaos gets into the system and things come apart eventually. And when humans are involved… well there's a reason for the old aphorism "If you want to make God laugh, tell him your plans."
So here's what I suggest. First: you need to make peace with your imposter syndrome. You need to realize something important: people who don't deserve to be where they are never question themselves. The most qualified tend to also be the ones who're most convinced that they're not. They're the ones who are painfully aware of how much they don't know. But the fact is: everyone with half a brain goes through this. It only looks easy to everyone to the outside. Think of it like a swan: above the water, they're majestic and serene.
Below the water, they're paddling like a motherfucker.
So realize that you aren't the only imperfect person there. But just as importantly: learn to accept "good enough". Consider the piano. Pianos are finely tuned instruments and one tiny thing going wrong ruins everything. You, however aren't a piano. You're a man. And what is a man? A miserable pile of secr… wait no. A sack of meat and bone; that's what you are. We're giant messes and things rarely work the way they're supposed to… but they still work out anyway.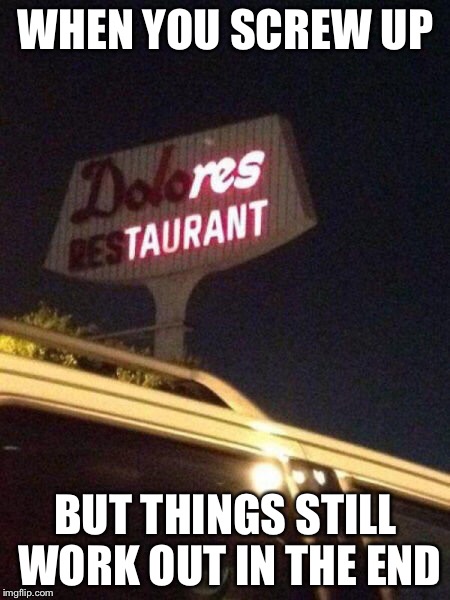 There is so very little that can go so wrong that you can't recover from it. And honestly? 99% of your career isn't going to have anything to do with your grades, but your knowledge… which isn't the same thing. And to be honest: you're not going to have a higher education career if you kill yourself in the process. Remember:  Imperfect and finished is always going to beat perfect and dead.
The other thing I suggest you do is start learning how to control your brain. Things like yoga and mindfulness meditation are great ways to force your brain to actually listen to you for once instead of just running off in it's usual patterns. Get an app like Headspace and learn about focusing on your breathing and observing your emotions. The more you can center yourself and calm the screaming in your head, the happier you'll be.
And failing that, there's always weed.
Good luck.
---
Hi, DNL!
I've been dating an awesome guy for five months now, and things between us are genuinely great. I'm 33 and I haven't had a whole lot of relationships in my life – I'm quite content in my own company, and if I don't feel like someone could make me happier than I would be alone, I don't bother pursuing them. As such, I've had a few serious relationships that have broken off amicably when we realise that we want different things or are no longer compatible. I don't talk to my exes much, but I'm pretty sure none of them look back on me badly. My partner is separated from his wife of seven years while the mandatory waiting period for divorce ticks down (it's just about up now, and I've helped him with some of the divorce paperwork and overheard convos with his lawyer, so no doubts that it's happening).
My issue is that, never having married myself, it's really hard for me to comprehend loving someone so much that you promise to be with them forever, and then… a few years down the track, deciding that you can't actually stand being in their company anymore. Their split is not a kind one, and I can't help but be frightened of the idea that as much as he and I like each other now, what if that situation is us down the track? What if things change and we hate each other enough to take it to court and fight over every scrap of our life together? I've never dated a divorcee before, so this realisation is new and uncomfortable, that you can love someone enough to marry them and end up dreading the moments you must spend with them.
I know this line of thought is unhelpful, but it's there every time I'm reminded of it, and especially when I hear about people getting divorces after just a year or two. How do I get over this irrational fear that, just because he split up with an ex badly, I might be next? I want to be happy with the time I have with him, not wondering if his (or other possible divorced partners I may have in future) feelings for me are going to flip as easily as switching off a light.
Love,
-Divorced from Reality
First rule of dating, DfR: All relationships end. Until you get to the one that doesn't. If you go into every relationship worried that this one won't end with one of you dying in the saddle, you'll never get anywhere. You're just going to continually what-if yourself to death. Which, in fact, you're doing right now. What if things change? What if you hate each other? Well… what if you step outside and get hit by a meteorite? What if the caldera under Yellowstone finally blows and kills us all?
Second rule of dating: a relationship that ended isn't a relationship that failed. As I've said before: not every love story is meant to be an epic poem. Some of them are short stories. Some of them are just dirty limericks. And that's fine. We all grow and change over time. You obviously aren't the same person you were at 23. Your boyfriend isn't the same man he was at the start of his marriage. But relationships grow and change over time too, and some come to a natural end. This doesn't mean that the relationship failed; it just meant that it was right for you in a specific place and time in your life. If the two of you can have a cordial relationship – even a friendly one, if you can continue to respect one another and still carry that kernel of affection and understand yeah this is why we were together, even if we aren't now… well that's actually a pretty damn successful relationship.
And here's something else you need to consider: your boyfriend's feelings didn't just change for his soon-to-be ex. It isn't that he flipped a switch and suddenly love became hate. Just as people change over time, so too do emotions. What happened between them was a process, not a bolt of lightning. Maybe it was something that could have been nipped in the bud if they'd been paying attention. Maybe it was a case of them not being right for one another and they tried to ignore it. Hell, they may have tried to push their relationship past its natural life span and the shambling corpse eventually turned on them. But it certainly wasn't instantly.
But here's what you need to remember: the third rule of dating is that proper preparation at the beginning of a relationship makes everything better. Taking time at the beginning to drama-proof your relationship – having some necessary conversations, learning how to have your own space as well as time together – can make your relationship last longer and run smoother than just going at it with no plan. Fortunately, I've written a book – It's Dangerous To Go Alone, A Relationship Survival Handbook – that covers this in some detail. I'd suggest you check it out as you start your path with your snugglebunny.
Because the fourth rule of dating is that a relationship can't succeed if you don't give it a chance in the first place.
Good luck.