There comes a point in every relationship where you have to have an awkward or intimidating conversation you'd rather avoid.
There's no getting around it. No relationship you'll ever have, whether it's with friends, family or lovers, will be without problems. If you've got two (or more) humans together, conflict is pretty much inevitable. It's easy in the early days, when great sex, or even just the thrill and novelty of a new relationship can paper over a lot of sins. When you're busy banging out on every flat surface you can find, it's very easy to convince yourself that those rough edges aren't so bad. You're pretty sure that this particular problem will smooth itself out in the future. And really, if you bring it up now… well, why ruin a good thing, right?
But not every problem in a relationship is there from the start. Even when things are perfect at the beginning, we grow. We change. What we need from others will change as well. Even things that may have worked for us in the past may not work any more.
However, the longer we go without talking about those issues, the harder it can be to actually bring them up in the first place. After all, how can you tell your partner that you're not enjoying sex with them any more without starting a fight? How do you tell your partner that the thing they love to do squicks you out?
Things go unsaid and so the conversation becomes more difficult. It's one thing to say that something is wrong in the relationship. But how do you have a conversation about something that's been wrong for months or even years?
It doesn't take very long before we become afraid of the conversation about the problem. But because we're afraid of making things awkward, we let those problems fester.
If you can't talk about the problems in your relationship, you can't fix them. Here's how to actually have those awkward conversations.
What Are You Actually Afraid Of?
The first step to actually being able to have that awkward conversation isn't about the issue or the conversation itself. It's about confronting the fear that's keeping you from having the conversation in the first place.
After all, you're not afraid of the awkward – at least not unless you think of American Pie as a horror movie. But if you've been in a relationship for longer than 30 seconds, you've both had more awkward moments than you've had hot meals together.
No, you're afraid of the consequences of having that conversation. And that's precisely what you need to face head on.
So the first thing you have to ask yourself is: what are you afraid of happening if you do bring things up?
Now the obvious answer is "the relationship explodes". And to be fair: that's a legit worry. But that's usually the result of what you're afraid of, not the actual problem. After all, it's not as though you say "hey, there's this thing I need to talk to you about" and they respond with "FUCK YOU GARY, I THOUGHT OUR RELATIONSHIP WAS AMAZING UNTIL JUST THIS SECOND, EMILY OUT!"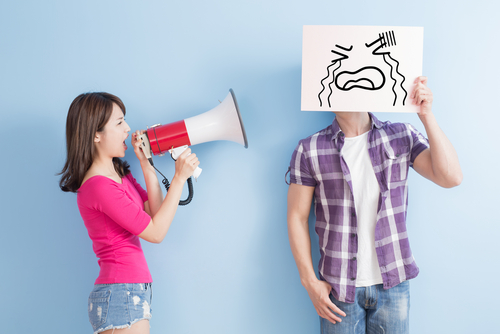 There are intermediary steps between the break-up meteor taking out the jurassic park of your love. It's those moments in between that what we really worry about. They're the agonizing moments that we fear will make us regret ever opening our stupid mouths in the first place. Just picturing the look on your sweetie's face when you mention that the sex isn't working for you is enough to make you want to jump in a hole and pull it in after you.
But by that same token: what if you don't say anything? Let's assume that literally nothing will change if you don't have this conversation. How long will it take before you accept that this grain of sand is never going to become a pearl? How long can you live with the status quo before your soul dies inside? A month? A year? Five years?
Because let's be honest: one way or another, not addressing the issue will destroy your relationship. It's just a question as to whether you explode or wither first. Either way, somebody will be hitting that eject button and bailing out of a relationship that might have been saved.
Until you name that fear, you can't address it. So dig into it. Are you afraid of losing their respect? Are you afraid of being judged? Maybe it's something that's been going on for so long that you worry that mentioning it now will wound your partner so badly that things won't be able to heal. Who wants to hear that someone they care about has been quietly dying inside for years because of something they've been doing? Or, worse, that you've been misleading them for all this time?
So drill down. Get all up in it's guts. You want to get intimate with that fear… because you want to be able to explain it to your snugglebunny. You want them to understand why you haven't said anything about something that clearly matters a lot to you.
But now that I've asked you to stare trauma in the face, let's look at the other side of this equation.
What Are You Hoping To Change?
One of the worst lies we tell ourselves is that there's something wrong, but we're not sure what it is. Most of the time, we know damn good and well what's going on. We just don't want to admit it. And what makes these conversations so awkward and difficult is that we end up pointing that there's a problem… and that's it. We drop the fact that we're not happy like a cat presenting us with a dead mouse and wondering why nobody's grateful.
"There is a problem" or "This is bad" is a difficult start to any conversation, but when you leave it there, it tends to be the end of one. It doesn't feel like you're saying "this is something I want to try to solve", it feels like you're chucking the Brick of Judgement at someone's head. Worse, this is almost always the point where you're still unwilling to deal with the actual issue because hey, this shit is hard to admit to. As a result, you end up treating symptoms while the disease continues to rage unabated.
Before you bring things to your partner, you need a clear and concrete idea of what you're asking for. Sometimes it's simple: "I need X from you" or "It hurts me when you do/say Y and I need this to change." Other times it's a bigger, more fundamental ask. You might be asking for a profound change to your relationship. Or you might be asking to re-open old wounds because they never healed properly and the way you "fixed" them is actually making things worse.
So focus on your ask. If you are absolutely, brutally honest with yourself, what is it that you need from your partner? What is it that you are so scared to ask for? Hold this firmly in your mind. Got it?
Good. Now here's the next part: how would things be better if this change were implemented? If you two resolved this issue, how would your relationship improve?
Part of why having these conversations can be so difficult is that they represent a threat to the status quo and change is scary. Humans are inherently lazy. We prefer things to stay as they are, often even when it sucks, because at least it's the sucky thing that we know. If we did things differently, that might be a different or worse suckage.
Being able to map out a future – a future where you're both happier, more fulfilled and more satisfied, without this nebulous issue hanging over you – makes it much easier to talk things out with your sweetie. The conversation may still be a tough one… but it's much less intimidating when you can frame things as "here is how things will be better if we sort this" instead of "shit's fucked and everything's terrible."
There Is No Right Time So Make The Right Time
One of the hardest parts of having the conversation is trying to find the "right" time. You want to find the "perfect" moment where the stars have aligned and there aren't a dozen perfectly good, totally legitimate reasons to not talk about this.
Which is precisely why you'll never talk about it. Waiting for the "perfect" moment is a way of putting off the conversation indefinitely. It's part of how you try to avoid this awkwardness without admitting to it. You can pat yourself on the back for being willing to address things but gosh darn it, you just can't find the time. Well, time to table it until some nebulous time in the future when you will totally hash this out.
SPOILER ALERT: No. No you won't.
There is no "perfect" time and there never will be. There is no right time to have a difficult, potentially painful  conversation. So you have to make the right time.
However, this doesn't mean that you can just pick a moment and spring it on them.
Feeling ambushed is a great way to not resolve anything. Having a heavy conversation dropped on you out of the clear blue sky puts people on the defensive. Sometimes it's unavoidable, but it's something that you try to steer clear of if at all possible.
Instead, it's better to schedule a time to talk. You want to make sure you both block out space to give the matter the consideration it deserves. This means, a time when there won't be any distractions or obligations that'll cut things short. You want time to actually talk, not just toss the dilemma on the table and then let it linger like a bad smell.
And it should go without saying that this is best done at a time when you both have the emotional bandwidth and actual energy to give the conversation the attention it deserves. When you're overwhelmed or tired – mentally or physically – you tend to not think as clearly. You're both more likely to say or agree to anything to make the awkward stop… even if that's not what you actually want. 
All the more the reason to tell your partner that you want to talk about something important, and preferably at this time.
Of course, once the appointed hour comes, what do you do?
Having The Awkward Conversation The Right Way
No matter what you do, or how you prepare, the conversation is going to be difficult. It's going to be awkward. And the best thing you can do is to treat it like a bandage. If you're going to pull it off, then you need to do it quickly. It'll hurt… but the short, sharp pain is better than the long, drawn out discomfort instead. This is why when you have your conversation, you want to dive in. The more you ramble or beat around the bush before getting to the meat of the issue, the worse it's going to be.
But this doesn't mean that you just chuck your grievance in like a grenade. You want to take this step by step.
First: make it clear that you need to speak your peace in it's entirety first. If they're going to interrupt you with objections or questions, then you're going to end up getting sidetracked – especially if the topic is emotional or contentious. So lay it out there: "This is hard for me and I want to get it all out there, so please let me finish before you say anything."
Next: you want to make it clear that this is something you have a hard time bringing up and it's important to you.
Why is it hard for you to bring it up? Because you were afraid of those fears I told you to dig into. You were worried that if you said something, they'd lose respect for you. Or that they would get angry. Or that it would hurt them. And the last thing you want is to hurt them or destroy your relationship.
This part is important: you're making it clear that this isn't just something petty or a minor issue. You want them to understand where your head is at and why you didn't feel like you could bring it up. And remember, it's your fear, not something that they're responsible for.
Next: What do you need? What is the issue, specifically. Be as clear and simple as possible… but also be blunt. This isn't the time for flowery language or trying to talk around the problem. This is going to be difficult enough as it is, and the more misunderstandings you can avoid, the better.
Once you've laid out what you need, or what the problem is, you need to explain the why of it. Why is this an issue for you? What is it doing to you, how did it happen and what does this mean for you?
Then the next step is to explain how addressing this issue will improve. What are the benefits to be had here, if you two can power through this? Why will things be better for the two of you?
Once you've laid it out there: listen. You've just dropped something huge on them and they've respected your desire to get it out without interruption. Now it's their turn, and they deserve the same respect from you. And, I'm not going to lie: this part is likely going to be as difficult for you to hear as it was for them to hear from you. So brace yourself.
No matter how you set things up, odds are that they will be hurt. They may be hurt by the issue, or they may be hurt because you didn't feel like you could tell them. They're likely going to have a lot of questions. Try to answer them all as completely and honestly as possible. Again: softening things is more likely to make it harder to fix those issues. You don't want to be an insensitive shit about it, but trying to soft-pedal your answers to avoid any sting is more likely to cause more confusion and more problems than it'll resolve.
And one thing to keep in mind: depending on the issue, you may get a knee-jerk "no". Like I said, change is scary and the status quo is a known quantity. You have to expect that possibility. That doesn't necessarily mean no is the final answer. Sometimes change has to occur over time. Your partner may need time to digest everything and process how they actually feel. You can't rush that process, and you may just have to resign yourself to gritting your teeth for a bit and waiting.
But as scary as that can be: you did the right thing. You got it out there.
And that's huge. 
Not Communicating Is What Damages Relationships
Now I get it. I have as hard a time with these conversations as anyone, and fuck me running I've had some doozies over the years. It's understandable that you're going to look at all of this and want to bury things even deeper than they were before. It is completely and utterly understandable that you're afraid that saying something is going to damage – or even destroy – your relationship.
But here's a truth: dying inside because you can't talk about what you need will destroy your relationship… no matter how good or strong you think it is.
Here's another truth: relationships live and die on people's ability to communicate with one another. No matter how awkward things get, if you can't talk to your partner about what's going on, your relationship can't survive. And while having these difficult, awkward conversations can be terrifying… they can also be freeing. Being able to communicate openly, clearly and freely opens the doors to greater trust and intimacy.
I won't lie. Sometimes having  these conversations will be the end of the relationship. But as horrible as that may feel, this is usually a sign that the relationship needed to end. And while it may hurt worse than you could imagine, it's far better to end things now, rather than after years of misery and missed opportunities.
But if you make open communication – no matter how difficult – a core part of your relationship? Then you make it stronger, happier and healthier than it ever was before.